Means of warning and escape
Mains-wired smoke detectors are needed in the hall, landing and stairs of all storeys. The following conditions apply:
There should be at least one detector on each storey, with the detectors interlinked (so that a detection of any one of them triggers all of them).
Each must be mounted within 7.5m of the door to any habitable room, and at least 300mm from walls and light fittings.
They must be either wired to a separate circuit from the consumer unit, or onto a single, regularly used lighting circuit.
The existing stairway at ground and first floor level (i.e. the hall at ground floor, the stairs from ground to the first floor and the first floor landing) should be enclosed within 30-minute fire resisting walls. The stairway should not be open to any other room, such as a lounge, kitchen, etc.
Any glazing onto the staircase in the house will need to be upgraded to give 30 minutes' fire resistance.
The stairway should open directly to one of the following:
A final exit 
A space which provides two escape routes, each leading to final exits and separated from each other by fire resisting construction and fire doors (see diagram below)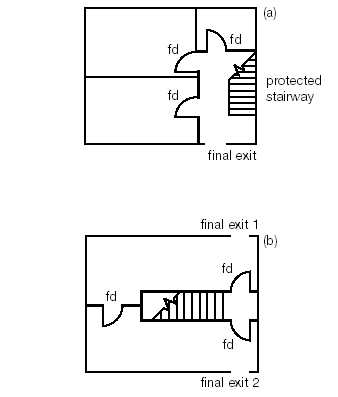 All existing doors to habitable rooms opening onto the hall or landing at ground and first floor levels should be replaced with FD20 fire doors, and any new doors to the hall and landing need to be fire resisting. There is no longer a requirement that these doors are made self-closing.
If you wish to keep existing doors in place because of their architectural or historical merit, these will need to be upgraded to give 30 minutes' fire resistance. This can be achieved by the application of special fire resisting paints, papers or varnishes (intumescents). There are specialist companies who provide the materials and assessment service for such upgrades. Building Control will need a detailed specification to ensure that the doors will provide the necessary fire resistance.
A new stair within an existing stairway enclosure should be separated from any new rooms by an FD20 fire door and fire resisting walls. Alternatively, the new stair may be separated from the existing storey by a fire door and fire resisting construction, as in diagrams a-c below.

As the staircase is now protected by a fire resisting enclosure, including the doors, there is no longer a requirement for an escape window to be provided in the converted loft (new 2nd floor).
Surface spread of flameplastered walls and ceilings generally meet this requirement. Any timber finishes to the ceiling, and to the walls over a certain amount, will need to be treated with a fire-retardant paint or varnish (subject to Building Control approval).
Fire resistance
The new floor, and any structure supporting it, must have a fire resistance of 30 minutes from underneath. This should extend to the inside face of the external walls.
The fire resistance of a floor is dependent on the ceiling beneath, the size and spacing of joists, and the boards over it. The following standards apply.
The existing lath and plaster ceiling below may provide the required fire resistance, provided that it is in good condition and firmly attached to the laths. If the ceiling is plasterboarded, then 12.5mm thick boards are required to give 30 minutes' fire resistance. You may have to provide an additional skim coat or additional plasterboard to the ceiling.
Joists must be at a maximum of 600mm centres, and at least 38mm wide (if the floor falls outside these limits, you should consult Building Control).
Floor boarding must be tongue and grooved, or plain edged boards overlaid with hardboard (to restrict smoke and hot gases that might penetrate the ceiling).
The first floor over any habitable rooms under the landing should also have 30 minutes' fire resistance. If the existing floor is plain edged boards, or badly fitting tongue and grooved boards, this should be overlaid with hardboard.
The separating walls between dwellings should have at least 60 minutes' fire resistance. Some older properties do not have separating walls within the roof space, or may have holes or gaps in them. These will need to be sealed up to the underside of the roof covering. You will also need to be careful of any new structural elements supported on this wall, or passing through it. If beams, floor joists or purlins pass through the wall, they can provide a route for smoke, fire and sound to spread from one house to another. 
External fire spread
Any dormer cheeks (the triangular external wall to the side) within 1m of a boundary to any other property will need to meet one of the following standards:
30 minutes' fire resistant, with not more than 2m² of combustible material added to the outside surface (e.g. timber or uPVC cladding)
not more than 1m²
There are requirements for thermoplastic rooflights, and for combustible materials used as roof coverings.